More effective meetings.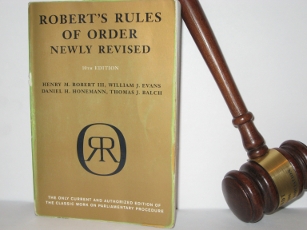 That's what we all want. If you do too, you're in the right place.
Parliamentary Procedure is designed for the sole purpose of having fair, organized, and effective meetings. And that's exactly why I practice it.
Allow me to help you make your meeting more manageable, in any of the following ways:
Professional Presiding Officer
Why not bring in a professional to run the meeting? Third-party, unbiased, professional presiding officers bring an environment of respect, authority, and accuracy to any meeting. I have served as professional presiding officers over many meetings, both calm and heated, with the utmost professionalism. Consider engaging me to deliver these same results to YOUR next meeting.
Meeting Parliamentarian
Anticipating an tricky situations about Robert's Rules? Need an extra level of expertise and respect that an trained professional bring? Look no further. I can serve as parliamentarian for your meeting and assist the chair, president, and, in fact, the entire organization know and feel confident in the meeting's integrity.
Bylaws Consultant
Governing documents gets a bad rap. They are there to serve your organization, not prevent you from doing...well...anything really. Let me help you make your governing documents work for YOU! Whether you are writing a brand new set or just fixing the set you have, I can help.
Parliamentary Procedure Training & Seminars
Have many new (or even veteran!) members who lack the grasp of parli. pro. to feel confident at your meetings? Bring in someone who can teach and guide your members to the path of enlightenment. I can provide engaging and fun training to organizations of all sizes and purposes. Even as short as a one-hour session can do WONDERS for groups looking for a little more organization and participation.
Civic Duty and Process speaking engagements
Why do we have Robert's Rules? Doesn't that just make my meetings longer? Why should I vote? I hear these types of questions all the time...and can turn even the most ardent opponent around. I believe in the democratic process and in having fast, but still fair, meetings. But, more than that, we know how to convince others of the same. Bring in a speaker today to instill a little democratic republic fire into your officer team or organization.